Economics 1021A/B Lecture Notes - Deutscher Motor Sport Bund, Marginal Revenue, Deadweight Loss
For unlimited access to Class Notes, a Class+ subscription is required.
Nicole Wallenburg
Economics
Parkin
Nov 21, 2011
Monopoly and How It Arises

That produces a good or service for which

no
close substitute exists

In which there is

one

supplier that is protected
from competition by a barrier preventing the
entry of new firms.
How Monopoly Arises
A monopoly has two key features:
o
If a good has a close substitute, even if it is produced by only one firm,
that firm effectively faces competition from the producers of the
substitute.
o
A monopoly sells a good that has no close substitutes.
o
A constraint that protects a firm from potential competitors are called
o
Three types of barriers to entry are

Natural Barriers to Entry
o
Natural barriers to entry create natural
monopoly.
o
A natural monopoly

is an industry in
which economies of scale enable one
firm to supply the entire market at the
lowest possible cost.
o
Figure 13.1 illustrates a natural
monopoly.
Monopoly Price-Setting Strategies
For a monopoly firm to determine the quantity it sells, it must choose the appropriate
price.
There are two types of monopoly price-setting strategies:

A single-price monopoly

is a firm that must sell each unit of its output for the
same price to all its customers.
©
2010 Pea

rso

n

Ed

u

ca

tion Canada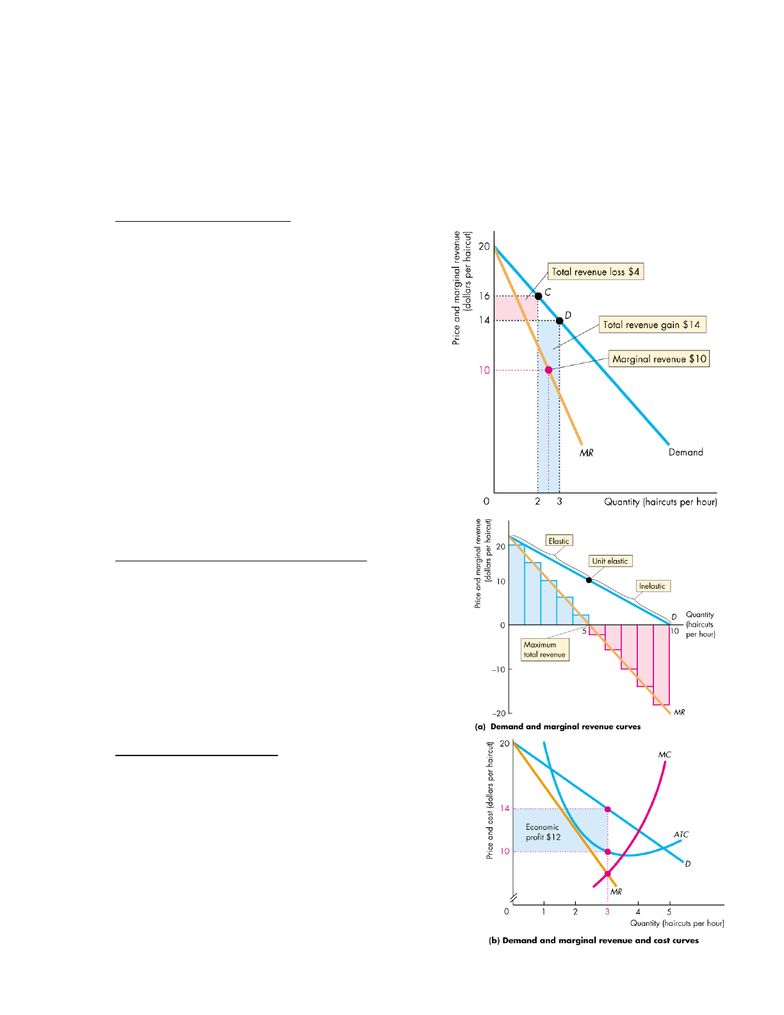 Nicole Wallenburg
Economics
Parkin
Nov 21, 2011

Price discrimination

is the practice of selling different units of a good or service
for different prices. Many firms price discriminate, but not all of them are
monopoly firms.
A Single-
Price Monopoly's Output and Price Decision
Price and Marginal Revenue
A monopoly is a price setter, not a price taker like a
firm in perfect competition.
The reason is that the demand for the monopoly's
output is the market demand.
To sell a larger output, a monopoly must set a lower
price.

Total revenue,

TR

, is the price,

P

, multiplied

Marginal revenue,

MR

, is the change in total
revenue that results from a one-unit increase
in the quantity sold.

Fo

r a single-price monopoly, marginal
revenue is less than price at each level of
output. That is,
TR gain
–
TR loss = Marginal Revenue
In Monopoly, Demand Is Always Elastic
A single-price monopoly never produces an output at
which demand is inelastic.
If it did produce such an output, the firm could increase
total revenue, decrease total cost, and increase
economic profit by decreasing output.
Price and Output Decision

The monopoly faces the same types of technology
constraints as the competitive firm, but the
monopoly faces a different market constraint.

The monopoly selects the profit-maximizing
quantity in the same manner as a competitive

The monopoly sets its price at the highest level at
which it can sell the profit-maximizing quantity.