---
chem 12 fall 2011 unit 2 lesson 3-3 small font.doc
---
---
This preview shows pages 1-2. to view the full 8 pages of the document.
3.3 The Electron Configurations and The Periodic Table

By the mid-1920s, it was clear that the Bohr model of the atom could not be made to
work.

An entirely new model was needed and three physicists are credited with laying the
foundations for this work, Louis de Broglie, Werner Heisenberg, and Erwin
Schödinger.

Their approach became known as wave mechanics or quantum mechanics and is still
the most widely accepted model of the atom today.

Quantum mechanics is a theory of atomic structure based on wave properties of
elements. It is a theoretical branch of physics that deals with atomic and subatomic
matter.

To visualize a particle as a wave, it helps to consider that an electron's location can
only be specified as a statistical probability.

Heisenberg's Uncertainity Prinicple

states that it is impossible to simultaneously
known the exact position and speed of a particle because by determining a particle's
location, we alter its speed. (These experiments are done by sending out photons to
collide with particles. The photons collide with the particle, changing both its location
and speed).

Basically, if you know where a particle is, you cannot know where it is going. Due to
the interaction of photons of light with electrons, at the instant the photon makes
contact and identifies where the electron is, the electron is excited sent to a place
unknown.
A moment of science humour…
Heisenberg is speeding down the highway, when he sees flashing lights; a cop is pulling
him over. The officer gets out, walks over, and leans toward Heisenberg's window.
"Do you have any idea how fast you were going, sir?"
"No," says Heisenberg, "but I can tell you where I am."
Only pages 1-2 are available for preview. Some parts have been intentionally blurred.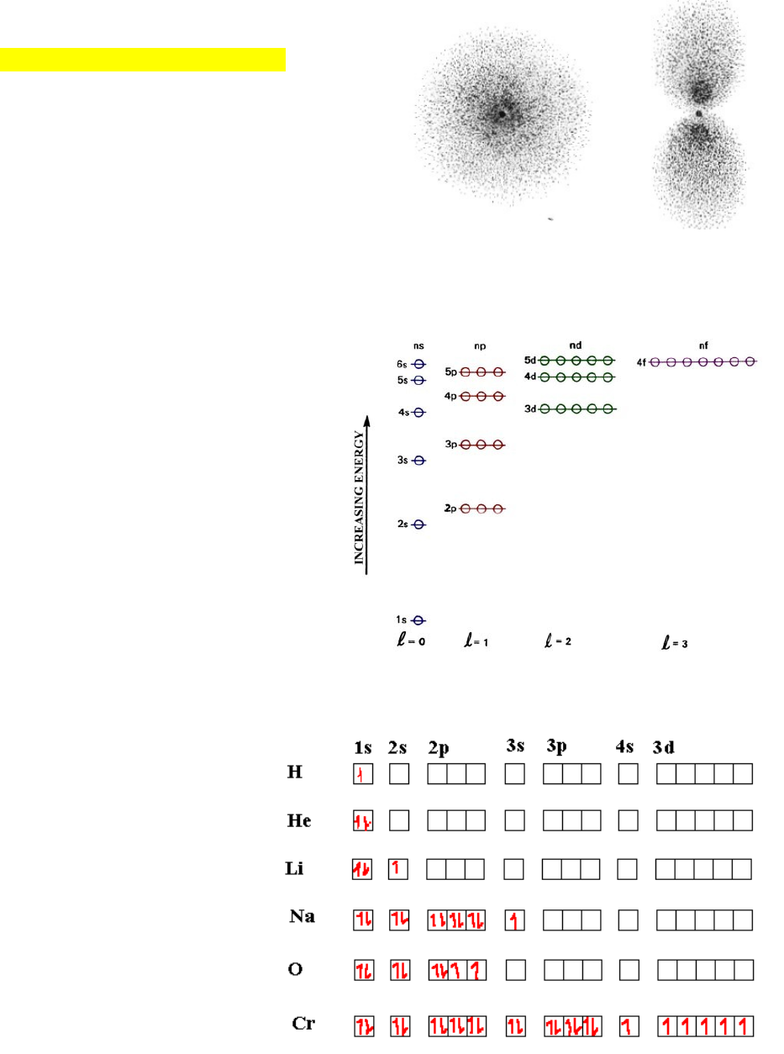 
Quantum mechanics is a challenging branch of physics to understand as it is filled
with inherent weirdness… As an old Chemistry 12 textbook famously said:
"We do
not know what electrons are doing in the atom – circles, ellipses, figure eights, the

Visualizing a particle as a wave allowed physicists to
created
electron probability distributions
, which are
three-dimensional statistic probability maps (or
mathematical representations) that graph the chance of
finding an electron in a given space.

Note that these shapes are identical to the shapes
described by the second quantum number.
Using Quantum Numbers to Create Energy-Level (Orbital) Diagrams

Energy level diagrams, also known as orbital diagrams, indicate which orbital energy
levels are occupied by electrons in an atom or ion (previous energy level diagrams
only included principal quantum number,
n
, now we are going to include all four
quantum numbers).

As atoms become larger and the main energy
levels come closer, some sublevels start to
overlap.

Notice that a circle is used to represent an
electron orbital within an energy sublevel.

The energy of an electron increases with an
increasing value of the principal quantum
number. For a given value of
n
, the sublevels
increase in energy, in order,
s
<
p
<
d
<
f
.

As previously mentioned, there are restrictions on the second quantum number, there
can only be one
s
, three
p
, five
d
, and seven
f
orbitals. (See p185, table 3.4 for more
details)

Rules for creating an energy-level
diagram:
their lowest or ground
state (of an isolated gas
atom).
o
Place electrons in the first
available box, from left to
right.
You're Reading a Preview
Unlock to view full version
Only pages 1-2 are available for preview. Some parts have been intentionally blurred.
o
Electrons in an orbital are represented by an arrow, pointed up or down to
demonstrate spin. (Note: arrows in the same orbital must point in opposite
directions.
Why? Recall the Pauli exclusion principle!
)
o
Usually the first electron is

↑

and the other electron

↓

.
o
Electrons are placed into orbitals by filling the lowest energy orbitals first.
An energy sublevel must be filled before moving into the next higher
energy sublevel. This is known as the
aufbau
principle
.
o
If there are several orbitals at the same energy level, one electron is placed
into each of the orbitals before a second electron is added. This is known
as
Hund's Rule
. (Hund's rule states that the lowest energy configuration
for an atom is the one having the maximum number of unpaired
electrons).
o
The number of electrons in the diagram must equal the atomic number
(this is modified for an ion).
o
For anions extra electrons must be added to correspond to the ion charge
(before distributing electrons into orbitals).
o
For cations, you must draw the energy-level diagrams for the
corresponding neutral atom first, then remove the number of electrons
(according to the ion charge) from the orbitals with the highest principal

This animation will help you visualize energy level diagrams:
http://intro.chem.okstate.edu/APnew/Default.html
energy diagrams add
additional significance to
the periodic table. The
number of valence
electrons remain the same
as the group number,
however, now you can
consider the valence
electrons to be those in the
outermost principal
quantum level of an atom.
You're Reading a Preview
Unlock to view full version
---