CHEM237 Study Guide - Final Guide: Methanol, Dystrophin, Immunoglobulin G
For unlimited access to Study Guides, a Grade+ subscription is required.
Chapter 1
-Fe involved in the transport of oxygen and in redox enzymes
-Cu, Z, Se, Co are important at the active site of certain enzymes
Amino acids = proteins
Monosaccharides = starch, glycogen, chitin, cellulose
Nucleotides = DNA, RNA
Lipids = membranes
Important Reactions
Alcohol + acid -> ester
Thiol + acid -> thioester
Alcohol + aldehyde -> hemiacetal
Alcohol + ketone -> hemiketal
Amine + acid -> amide
Thermodynamics
-used to determine whether a physical process is possible
Enthalpy: H, measure of heat evolved during a reaction
Entropy: S, measure of disorder
Free Energy: G, measure of the tendency for a process to occur
Bioenergetics: study of energy transformation in living organisms
1st law-> energy is conserved
2nd law -> spontaneous processes are characterized by the conversion of order to disorder
-entropy increases as the temperature rises (k is dependent on temperature)
Gibbs free energy
ATP + H2O = ADP + Pi exothermic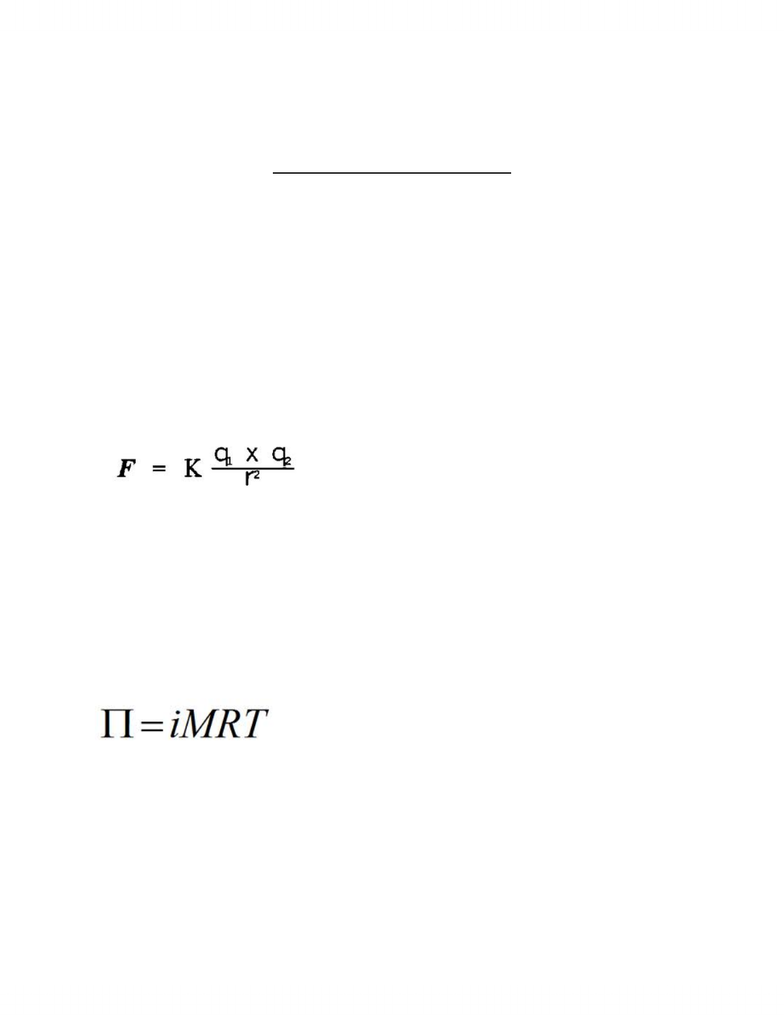 ATP + H2O = AMP + Pi exothermic
-exergonic because of resonance stabilization, electrostatic repulsion, smaller solvation energy
Chapter 2: Water and Aqueous Solutions
-oxygen has a partial charge of -0.82 and hydrogen has a partial charge of +0.41
-causes a permanent dipole moment of 1.85 Debye units
-Hvap is the energy needed to break intermolecular interactions, increases as MW increases
H bonds -> 1.8A long, strongest when OH-O is co-linear
Co
-operativity: probability that a second H bond will form after the first is increased
-H2O is a good solvent because it is highly polar and has H bonding capability
Coulomb's law: describes the electrostatic forces between charged molecules
Colligative properties of H2O -> properties of solutions that depend on the number of molecules in a
given amount of solvent, not on the identity of the molecules
-lowering of VP, lowering of freezing point, elevation of boiling point, osmotic pressure
-in dilute solutions the effect is directly proportional to the number of solute particles per unit volume
Osmotic pressure: pressure generated by the mass flow of water to that side of a membrane-bonded
structure that contains the higher conc of solute molecules
Osmosis: water movement across a semipermeable membrane driven by differences in osmotic
pressure
1.
Isotonic

–

equal osmolarity, no net flow
2.
Hypertonic

–

cell is in a solution with a higher molarity, cell shrinks as water flows out
3.
Hypotonic

–

cell is in a solution with a lower molarity, cell expands as water flows in (lysis)