---
PHYSICS 1L03 Chapter Notes - Chapter 5: Sulfur, Electric Field, Lightning
---
---
This preview shows page 1. to view the full 5 pages of the document.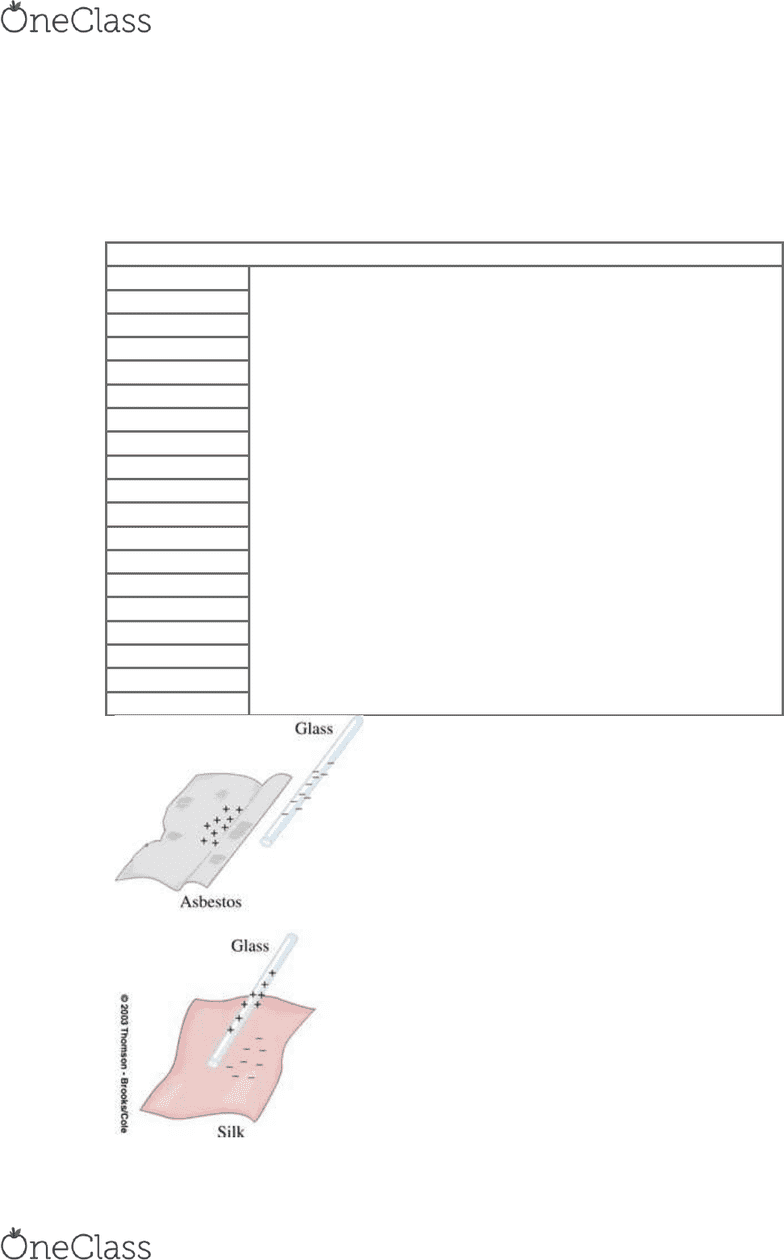 Electrification
- There are different ways to charge objects. They are explained below.
Charging by Friction
: Electrification that occurs when one object is rubbed
against another and, due to differences in the number of electrons available on
each, electrons travel from one to the other.
The Triboelectric Sequence
Asbestos
On contact between any two substances shown in the
column, the one appearing above becomes positively
charged and the one below becomes negatively charged.
Fur (Rabbit)
Glass
Mica
Wool
Quartz
Fur (Cat)
Lead
Silk
Human Skin
Aluminum
Cotton
Wood
Amber
Copper, Brass
Rubber
Sulfur
Celluloid
India Rubber
find more resources at oneclass.com
find more resources at oneclass.com
You're Reading a Preview
Unlock to view full version
Only page 1 are available for preview. Some parts have been intentionally blurred.
Charging by Contact
: Electrification by contact occurs when two objects come
in contact so that charges can move from one object to the other so the charges
are distributed evenly between the objects.
Static Discharge
: The result of electrons jumping the gap between two objects,
one negatively charged and one positively charged, resulting in the equalization
of the charges of the two objects. This is also called a spark or lightning if it is big
enough.
find more resources at oneclass.com
find more resources at oneclass.com
You're Reading a Preview
Unlock to view full version
---