MGY277H1 Lecture Notes - Lecture 6: Surgical Mesh, Glutaraldehyde, Antibiotics
For unlimited access to Class Notes, a Class+ subscription is required.
Unit 6 Controlling Microbial Growth
Overview of Microbial Control
Sterilization
 removal or destruction of all organisms so they can no longer
multiply or revive

Sterile item is

FREE

of microbes including endospores and viruses but …

DOE S NOT

consider prions (not destroyed by standard sterilization)
Disinfection
 elimination of most or all pathogens

Some viable microbes

may remain

Disinfectant/biocides/germicide/bactericides used on inanimate objects

Antiseptics used on living tissue
Pasteurization
brief heating to reduce number of spoilage

Foods and inanimate objects
Decontamination
reduced pathogens to levels considered safe to handle
Sanitization
 Substantially reduced microbial population that meets accepted
health standard (
NOT
a specific level of control)
Preservation
process of delaying spoilage of foods and other perishable products

Pasteurization may assist this process

Adjust condition to slow microbial growth

Add bacteriostatic preservative (growth-inhibiting but

DO NOT KILL

)
Microbial control methods depends upon
situation
and
level of control
required
Daily Life
Routine control washing and scrubbing with soaps and detergents

Soap remove surface organisms

Beneficial skin microbiota reside deeper in skin = No effect

Pores typically has

NO

contact with soap and bacteria here are in BIOFILM
Hospitals & Health care Facilities
Healthcare associated infection =
Nonsocomial infections

Patients more susceptible to infection due to weakened condition

High concentration of infectious disease in confined area (pathogens)

Instruments must be sterilized
Laboratories
routinely work with microbial cultures

Must eliminate microbial contamination to both experiment sample and
environment (
Aseptic Techniques
)
find more resources at oneclass.com
find more resources at oneclass.com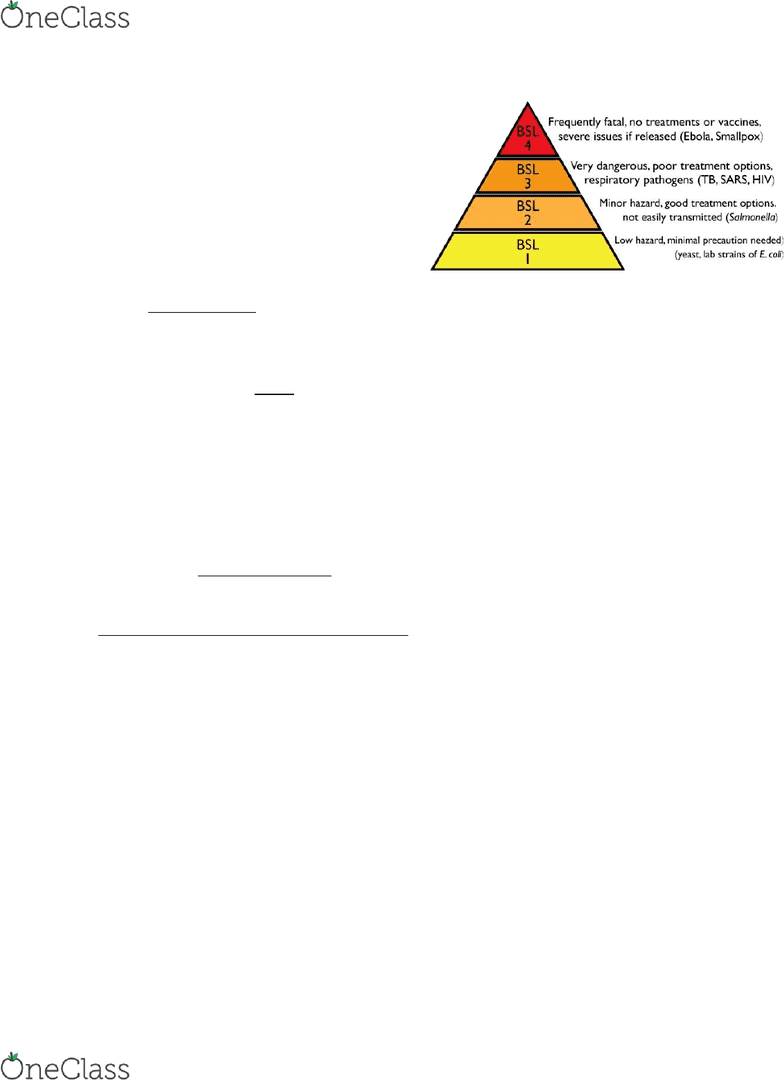 
Careful sterilization before and after

COC
and

PHAC

guidelines for labs working with
microbes
o
Biosafety levels range from BSL-1 to
BSL-4 to each type of microbe
Food Production Facilities
Contamination microbes must be
destroyed, removed, inhibits

Heat treatment is most common (alter flavour and appearance)

Chemical additives or Irradiation for certain foods (

high energy ray

)

CFIA-CAD/FDA-USA

regulates use of irradiation and chemical additives due
to risk of toxicity

Facilities must KEEP surface clean and relative free of microbes
Water Treatment Facilities
Ensure drinking water free of pathogens

Chlorine

is traditionally used to disinfect water
o
Save live from water born disease
o
Can react with naturally occurring chemicals to form disinfection by
products (
DBPs

)

but
linked to long term health risks

Some organisms resistant to (traditional) chemical disinfectants
o
Cryptosporidium parvum

(cause diarrhea)
o
Regulation require facilities to minimize DBPs and C.parvum in
treated water
Selection of an Anti-microbial procedure
All method has advantage and limitation (
NO
multipurpose methods)
Depends on factors include:
2.
# of contaminating microbes
3.
Environmental condition
5.
Composition of the item
Types of Microbes
Products potentially contaminated with highly resistant microbes require more
rigorous treatment
Bacterial endospores

Most resistant form of life encountered
(Only kill by extreme heat or chemical)

Spore/Endospores produced by

gram positive cell

Contain hard shell that protect DNA and metabolic inert

E.g bacillus, Clostridium sp
Protozoan cysts and oocysts
find more resources at oneclass.com
find more resources at oneclass.com

Excreted in feces and cause diarrheal disease if ingested

Also content hard shell that surround DNA and inert

Resistant to disinfectant but

EASILY

destroyed by boiling
Micobacteirum species

Waxy cell walls make resistant to many chemical treatments

Stronger, more toxic chemical is used to disinfect

But susceptible to

ultra violate light
Pseudomonas species

Common

environmental organisms that can cause serious healthcare
associated infection

Opportunistic pathogens

(problematic for cystic fibrosis or burn patient)

Resistant to and can

ACTUALLY GROW

in some disinfectants
Naked viruses

Lack lipid envelope (Contain protein shell) and

MORE RESISTANT

to
disinfectant sand detergents but still susceptible to chlorine (i.e Polio virus)

Noro-virus the

MOST

common food poisoning pathogen
(Kill weak people by dehydration of diarrhea)

Envelope viruses (i.e HIV) are sensitive to these chemicals
Number of Microbes

Time for heat of chemicals to kill if affected by population
size since only a fraction of population dies during given
time interval

Large population = more time

Decimal reduction time(D value) gauges commercial
effectiveness

D value depends on type of treatment for decimal
reduction rate and type of microbe (susceptibility)

Time required to kill 90% of population under specific
condition= "Logarithmic killing"
Environmental Condition

Dirt, grease, body fluids can interfere with heat penetration, action of
chemicals

pH, temperature

can influence effectiveness of microbial death
o
Sodium hypochlorite (

household bleach

) solution can kill suspension
of M.tuberculosis at 55 C in ½ time as at 50 CMore effective at low pH
Risk for Infection
Medical instruments categorized according to risk for transmitting infectious
agent [greater threat = more rigorous procedure]
Critical items
come in contact with body tissues

Include needles and scalpels, MUST be sterile
find more resources at oneclass.com
find more resources at oneclass.com