PSYB57H3 Chapter Notes - Chapter 10: Soft Palate, Pharynx, Trachea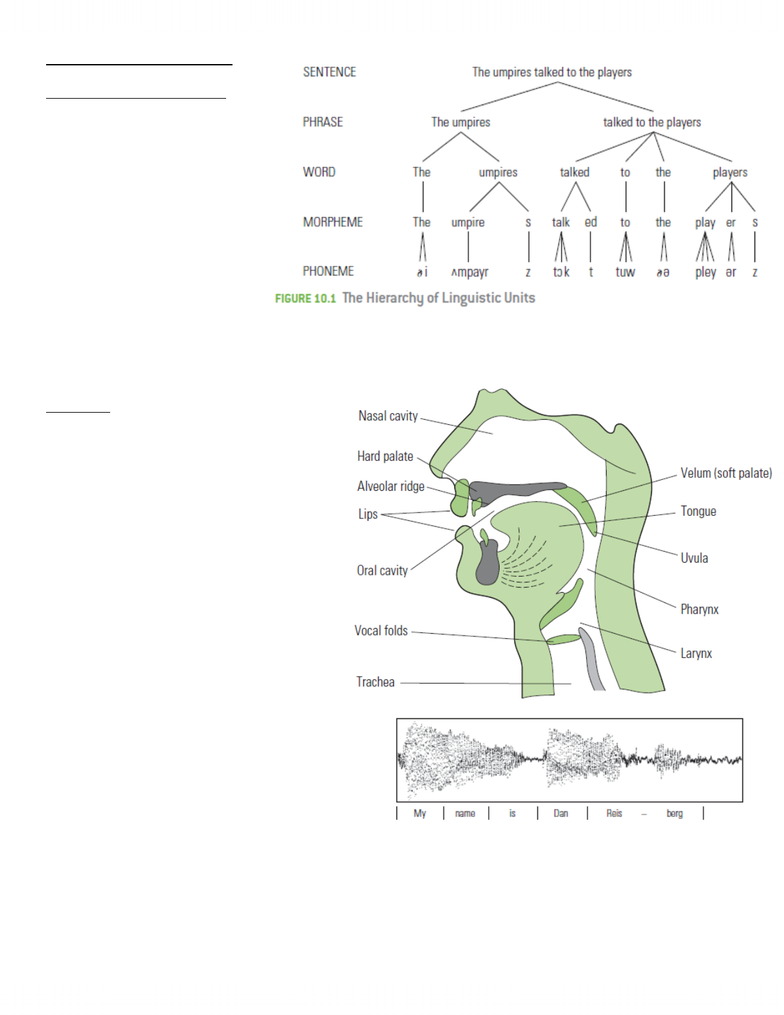 The Organization of Language
- Language is highly organized
with patterns in the way that
various ideas are expressed
- Ideas are typically expressed
sequences of words that
express the intended
meaning of a speaker
- Sentences are composed of
morphemes, smallest language
until that carry meaning
-
Morphemes are units that
can stand alone and refer to particular objects or ideas or actions, some morphemes get bound onto "free"
morphemes and add information for interpretation
(i.e. "ed", "s")
- People can combine and recombine units to produce novel utterances, assembling phonemes to new morphemes
or assembling words into new phrases
Phonology
The Production of Speech
- Air flows quietly out of lungs, through larynx
and up through nose and mouth, if airflow is
interrupted or altered, this allows human to
produce wide range of difference sounds
- Vocal folds/cords: W/I larynx, there are 2
flaps of muscular tissue, can be opened and
closed to produce
buzzing sort of vibration =
voicing
- To produce sound, place tongue tip near roof
of mouth; sound is sound of air rushing through
narrow gap you created
- If gap is elsewhere, a different sound results
-
Manner of production

–

categorizing
speech sounds based on how airflow is
restricted
-
Distinguish sounds that are voiced

–

with
coal folds vibrating - place of articulation
i.e. close lips to make "bilabial sound" like p and
b
–
place top teeth close to your bottom lip and
produce labiodental sounds like f and c
- in English, features are combined and recombined to
produce 40 different phonemes
The Complexity of Speech Perception
- Features of speech production correspond to what
listeners hear when listening to speech
–
reflects errors people make when trying to understand speech in noisy
environment
- 1
st
step prior to phoneme identification is "slice stream into appropriate segments –

speech segmentation
-
Coarticulation: In producing speech one does not utter one phenome at a time, they OVERLAP, allows
FASTER FLUENT speech BUT can't point to a
specific acoustical pattern and is different in different contexts
Aids to Speech Perception
- We can perceive speech accurately and easily because daily speech is limited in word range
- Perception of speech is attributed
to
supplement input with OTHER FORMS OF KNOWLEDGE
–
match b/w sounds
at our ears and words in our vocab
-
Phonemic Restoration Effect: People may be guided by knowledge of a boarder sort, relying on broader
context in which word appears
i.e. [s]sound of legislature might be removed and replaced by brief burst of noise
–
now presented as "The state
governors met w/ respective leg*latures convening in the capital city"
When asked what they heard, they hear legislature WITH burst of noise
Categorical Perception
- Speech perception takes place w/I process where person tryies to convey set of ideas and other person tries to
discern what those ideas are
-
Categorical perception: We are better at hearing difference b/w categories of sound that we are at
hearing the variations w/I a category of sounds (
i.e. we are sensitive to differences b/w [t] and [d] but
insensitive to differences w/I each categories [p] sound vs. another [p] sound)
Combining Phonemes
- Language relies on combinations of
phonemes
–
rules governing these
combinations
i.e. 's' ending that makes English
plural
–
different plural cases make
different plural sounds
Words
Word Meaning
-
Word's
referent what a word
refers to, kind of like the meaning
-
Sometimes, word meanings must
involve more than reference
–
concepts
–
"knowing a word" is knowing the relevant concept
Building New Words
-
Generativity of language: The capacity to create endless series of new combination form fundamental
units
- This knowledge of combining
isn't'

conscious
Syntax
-There are limits on which combinations are
acceptable and which is not
-
Syntax: Rules governing sequence of
words in a phrase or sentence
i.e.
"Twas brillig, and slithy toves

did gyre
and grimble in the wabe" and "Colourless
green ideas sleep furiously:
These are sentences but lack meaning
–
syntax are separates from consideration o
semantic nor sensibility
Phrase Structure
-
Phase structure rules: Organization of
sentence
Sentence (S) always consist of a
noun
phrase/NP and a VERB PHRASE/VP| S

NP VP
Document Summary
Language is highly organized with patterns in the way that various ideas are expressed. Ideas are typically expressed in sentences coherent sequences of words that express the intended meaning of a speaker. Sentences are composed of phrases words morphemes, smallest language until that carry meaning. Morphemes are units that can stand alone and refer to particular objects or ideas or actions, some morphemes get bound onto free morphemes and add information for interpretation (i. e. ed , s ) People can combine and recombine units to produce novel utterances, assembling phonemes to new morphemes or assembling words into new phrases. Air flows quietly out of lungs, through larynx and up through nose and mouth, if airflow is interrupted or altered, this allows human to produce wide range of difference sounds. Vocal folds/cords: w/i larynx, there are 2 flaps of muscular tissue, can be opened and closed to produce buzzing sort of vibration = voicing.