Physiology 3120 Lecture Notes - Classical Conditioning, Sound Intensity, Protein Folding
Neurophysiology – Dr. Hore
Neuro I – Introduction
Anatomical Features
•
10

11

neurons  10

15

synaptic connections
•
CNS = brain & spinal cord

Information processing cells

Make synaptic connections

Provide support – helper cells

Major function: contribute to the well-being of neurons
•
Remove neurotransmitters
•
Removing ammonia (by-product of metabolism)
neurons
extracellular K+
for axons

10 times more glial cells than
neurons
Neuron
Synapses
o
High electrical resistance between
pre- & post-synaptic cells
o
Electrical currents ahead of action
potentials do not cross synapse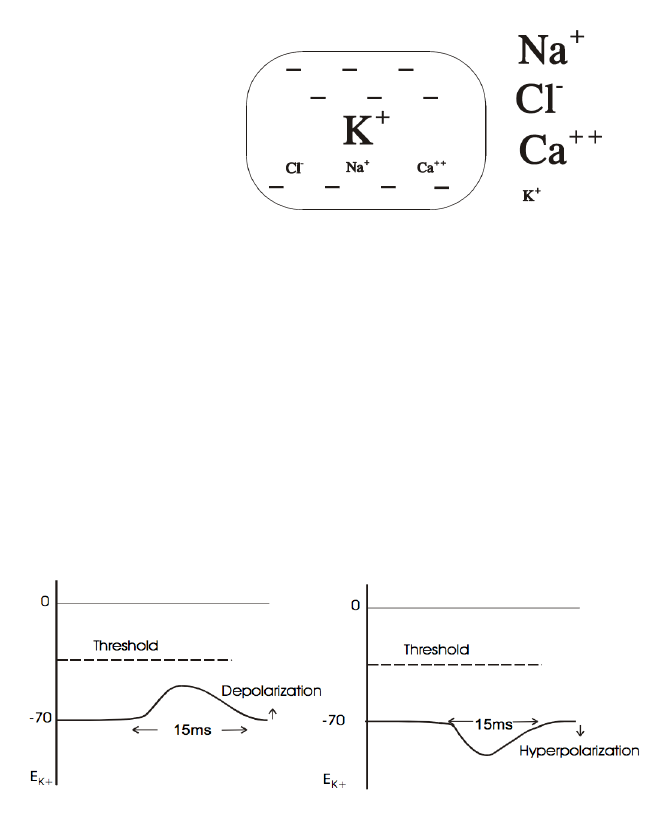 o
Signal which propagates electrically down is conveyed across synapse by

neurotransmitters
o
Neurotransmitter attaches to receptor on postsynaptic neuron membrane
o
Slower than electrical synapses
o
Neurons very close together
o
Cytoplasmic continuity via gap junctions
o
Low resistance to electrical signal
o
Electrical currents travel across synapse
o
Bidirectional (action potential travelling from post
to pre)
o
Strength of synapses can be altered
Equilibrium Potentials for Representative Neurons
•
Representative – not exact
o
Strongly permeable to K+
o
Some Na+ leaks in  bring in +ve charge  depolarize bringing it to -70 mV
•
What would happen if the
membrane became suddenly
permeable to:
potential would go to -80
mV
potential would go to -90
mV
o
Only Cl- & K+ – membrane
potential would go to a
value between equilibrium
potentials of both ions i.e. approx. -85 mV
o
Only Na+ & K+ - somewhere between the two (experiments show value is 0 mV)
EPSP & IPSP
o
Transient (15 ms – doesn't have enough time to reach 0 mV) increase in conductance to both
Na+ & K+ but Na+ dominates & cell depolarizes
o
Takes membrane potential towards zero/threshold

If it was longer it would reach 0

Most of the time does not reach threshold – sub-threshold (if reaches threshold  AP)
o
At single synapse is < 1 mV in size
o
Total size depends on how many afferent axons were active
o
Opens channel where both Na+/K+ travel – Na+ in & K+ out
o
Na+ rushes in due to chemical & electrical gradient  depolarization  +ve charge is brought in
o
Transient (15 ms) increase in conductance to Cl-, K+ or both
o
Produce hyperpolarization  inhibits neuron
o
In some neurons E

Cl-

may be close to -70 mV
o
Cl- mediated IPSP may be very near RMP
o
Even if IPSP does not hyperpolarize it suppresses action potentials because it clamps the cell at
IPSP equilibrium potential (far from AP threshold)
•
Produced by different transmitters
Transmission at CNS Synapse vs. Transmission at NMJ
•
There are a variety of transmitters in CNS vs. Ach is only used at NMJ
o
EPSP at single central synapse is < 1 mV in size
o
Need for 50-100 incoming Aps to produce EPSP that summate before membrane is depolarized
to threshold level & AP is triggered
o
At NMJ – one AP in α-MN produces an
end plate potential that always
reaches threshold
•
Central synapses can be excitatory or
inhibitory vs. NMJ which is only excitation
Main Signal Flow within Neuron & Action
Potential
•
Signal flow through neuron involves receiving
chemical signals at synapses by chemical
transmission
o
Causes Na+ to enter bringing in +ve
charge
o
Causes current to flow to axon hillock because this region is -ve with respect to excited region
o
Axon hillock is region of low electrical resistance compared to axon & has a high density of V.G.
Na+ channels
o
If membrane potential is depolarized sufficiently at axon hillock – large # of V.G. Na+ channels
will be open & action potential will be initiated at axon hillock & propagate down axon
o
Positive current flow in the opposite direction – away from axon hillock
•
Electrical current is flow of positive charge (not electrons)
•
In excitable cells (neurons & muscle fibres)
current flow is produced by shuffling of +ve
positive ions in one directions & -ve ions in
opposite direction
Neuro II: Synaptic Transmission
Sequence of Synaptic Transmission
•
Presynaptic neurons synthesize
neurotransmitters which are stored in vesicles
•
Presynaptic depolarization by action potential
activates Ca
2+
influx at V.G. Ca
2+
channels
•
Ca

2+

causes exocytosis & release of
neurotransmitter