---
PSYC 328 Chapter Notes - Chapter 15: Health Care In Canada, Coronary Artery Disease, Rheumatoid Arthritis
---
---
This preview shows pages 1-2. to view the full 8 pages of the document.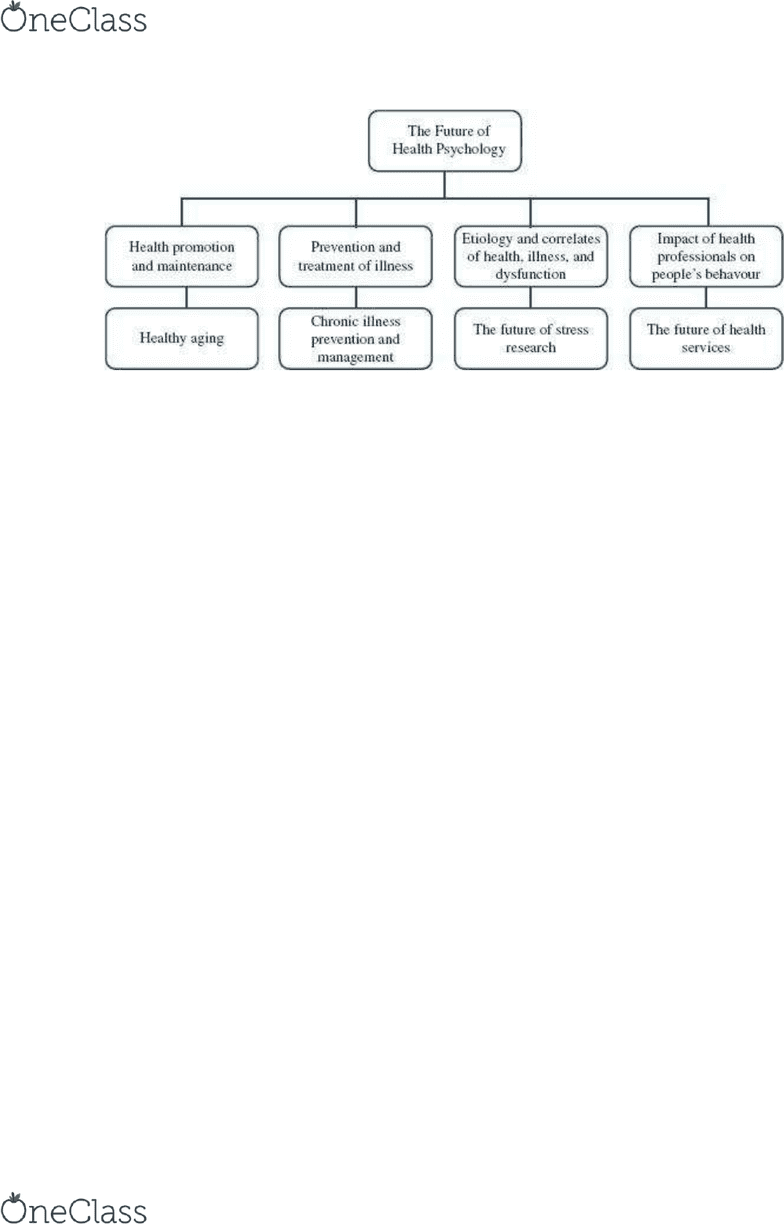 Chapter 15 Health Psychology: Challenges for the Future
LO1 What is Healthy Aging?

Aging - development of a number of chronic and degenerative health conditions

Using the principles of health promotion can help reduce these risks + help Canadians live healthy and
rewarding lives as they age

Healthy aging

: view of aging that emphasizes health promotion, social connectedness, physical
activity, healthy eating, prevention of falls, and tobacco control

No

universally accepted definition

Fi

ve key issues of healthy aging: social connectedness, physical activity, healthy eating, prevention of
falls, and tobacco control
o
Echo the themes for health promotion

The Aging of the Population

What kinds of living situations will these increasing numbers of elderly people have?

What kinds of economic resources will they have available to them?

How will these resources influence their health habits, their level of health, and their
ability to seek treatment?

How can we evaluate and monitor care in residential treatment settings, such as nursing
homes, to guard against the risks of maltreatment?
o
Seniors requiring specialized care



nursing home or long-term-care facility needed

BUT new problems: behavioural problems, such as resistance to care, wandering, and
physical abuse

threatened their own and other residents' quality of life
o
Higher incidence of chronic, but not life-threatening conditions, e.g. arthritis, osteoporosis,
cataracts, glaucoma, hearing losses, incontinence, and blindness

Deafness is rising


blasting rock music that teenagers in the 1950s and 1960s listened

Vision problems increasing, rates of glaucoma, macular degeneration, and increase
with age

time
spent in front of a computer screen
o
Within the next decade, we will have the largest elderly cohort ever seen in Canada
o
Can be plagued with chronic pain, disease, depression, and disability or it can be a healthy,
active one, with high levels of quality of life
o
Healthy aging indicators: health behaviours such as consuming more fruits and vegetables,
exercising frequently, minimizing stress levels, and feeling

Connected to one's community were factors associated with overall good health
find more resources at oneclass.com
find more resources at oneclass.com
Only pages 1-2 are available for preview. Some parts have been intentionally blurred.
o
Community-based initiatives and individual interventions should focus on helping the elderly
through programs that emphasize diet, exercise, social support, stress management, other
health habits
o
Certain groups may need special attention: e.g. women, those with lower education
o
Future health promotion efforts should focus more on positive factors that may reduce
morbidity or delay mortality

E.g. I

ncreasing social support and a sense of connectedness to one's community may
prolong life, esp. men
o
In the past, health psychologists have mostly focused rich on risk factors for chronic illnesses
o
Increasingly, researchers are turning their focus to understanding the positive experiences that
can promote healthy aging, e.g. hope, resilience

How people spontaneously reduce their levels of stress

How they seek out opportunities for rest, renewal, and relaxation

Helping people stay socially connected and engaged in the community

Resilient people, esp. elderly, naturally engage in the types of health-promoting
behaviours, e.g. healthy eating and being physically active

promote healthy aging
and healthy living in general

Personal resources, e.g. optimism or a sense of control


protective against chronic
illness, and these can be taught!
LO2 What Are the Issues in Chronic Illness Management for the Future?

Physical, vocational, social, and psychological consequences of chronic illnesses have been
increasingly recognized

Many Canadians currently have or may develop a chronic illness that will require management

Ensure effective disease management and self-care, maximize the quality of life among those who live
with one or more chronic illnesses.

Refocusing Health Promotion Efforts
o
Refocusing our effort toward morbidity
o
Cost is one of the reasons

Chronic diseases are expensive to treat, esp. with the length of time

E.g. rheumatoid arthritis and osteoarthritis have little impact on mortality rates but have
a major impact on the functioning and well-being

addressing their causes and
management can
have a significant impact on health care costs

E.g. diabetes


lifestyle change programs may have a significant impact on health care
costs

ActNow BC, a program designed to increase healthy lifestyles among the
province's population,
addresses physical activity, healthy eating, healthy
schools, healthy workplaces, healthy communities, healthy pregnancies, and
tobacco control, to reduce the risk factors for chronic disease
o
Maximizing the number of good years during which an individual is free from the burdens of
chronic illness

higher quality of life.

The Contribution of Socio-Economic Status and Health Disparities to Chronic Illness
o
Low socio-economic status (SES)
o
Lower social classes experience more and more intense stressors of all kinds



cumulative toll
on health risks
o
Lower income & educational and occupational attainment



broad array of stressors, including
inadequate housing, violence, danger, lack of vital goods and services, poor sanitation,
exposure to environmental pollutants, and numerous other hazards
o
Higher income and educational attainment



psychosocial resources and a lower risk of
illnesses and disabilities across the & increased chances of enjoying healthy
o
The effect of low SES on poor health is true for both men and women and at all age levels BUT
effect tends to narrow toward the end of life
find more resources at oneclass.com
find more resources at oneclass.com
You're Reading a Preview
Unlock to view full version
Only pages 1-2 are available for preview. Some parts have been intentionally blurred.
o
Alcohol consumption, high levels of lipids, obesity, tobacco use, and fewer psychosocial
resources (such as a sense of mastery, self-esteem, and social support
)


effect on health
o
Higher incidence of chronic illness, a heightened risk of low-birth-weight babies and infant
mortality, and a heightened risk of accidents
o
Overwhelming majority of diseases and disorders show an SES gradient, poor people
experiencing greater risk
o
Designing interventions targeted specifically to low

-SES individuals to modify risk factors
associated with social class (such as smoking, drug use, alcohol consumption, and consumption
of an unhealthy diet) needs to assume very high priority
o
Exploring ethnic differences in health, and the picture is bleak
o
Gap between Aboriginal peoples and non-

Aboriginal people's health status

successively
widens for each older age group, pronounced for women
o
Larger portion of Canada's Aboriginal population report having

arthritis, hypertension, and
asthma, diabetes
o
The life expectancy gap between Aboriginal and non-Aboriginal Canadians, although now
decreasing, remains high
o
Injury rates, which include suicide, are also four times higher among Aboriginal people
o
Aboriginal peoples are, on average, lower in socio-economic status, disproportionately subject
to the stressors that accompany low SES, lack of access to traditional medicines, healers, or
wellness practices, especially for those living in urban centres

Quality

-of-Life Assessment
o
Develop programs to assess quality of life for people with a chronic illness + develop cost-
effective interventions to improve quality of life.
o
May be

delivered within the context of interprofessional teams as Canada's health care system
moves towards a more collaborative model of care
o
Early assessment to help identify potential problems
o
Psychological interventions directed to depression and illness
o
Interventions that help strengthen qualities such as optimism, perceived control, and resilience
o
Shift away from dependence on expensive pharmacologic and invasive surgical pain control
techniques to cognitive behavioural methods, e.g. biofeedback or relaxation
o
Shift in responsibility for pain control from practitioner to co-management
o
Enhanced sense of control



treatment advance
o
Greater emphasis on low cost and accessible pain control options e.g. preferred
o
Current pain and coping research has focused almost exclusively on younger adults and ignored
how pain coping strategies may be different for older adults

should be more tailored
o
Identify the best ways to gain adherence to multiple treatment goals simultaneously
o
Substantial changes in attitudes toward terminal illness
o
Health psychology research has been both a cause and an effect of these changing attitudes
o
The appearance of AIDS



promise of longer-term survival - protease inhibitors

BUT AIDS is changing, spread heavily into the poor urban populations and among
Canada's Aboriginal peopl
es.

Women are at special risk + goring infected infant population

Disease of families


need adequate attention d to helping mothers, esp. single
mothers with HIV
o
Ethical issues surrounding death and dying: aid-

in

-dying, advanced care directives, the
pat
ient's right to die, family decision making in death and dying, and euthanasia

Social Change to Improve Health
o
Individual change coupled with social change is needed
o
Access to health care is not as good as it could be
find more resources at oneclass.com
find more resources at oneclass.com
You're Reading a Preview
Unlock to view full version
---